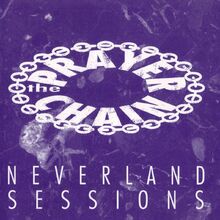 The Neverland Sessions is an independently released album by alternative band The Prayer Chain.
The album was released in January 1992. The Prayer Chain put the album together to capture the first two years of the band. 4 of the songs had appeared previously on 4-Song Demo but were re-recorded for The Neverland Sessions.
When the song I Believe charted, it got the band signed with Reunion Records. Editted & remixed versions of 6 of the songs appeared on their debut with Reunion in 1992 on the Whirlpool EP.
Singer Tim Taber recalls "(After the demo tape) we played for another whole year and then released an album by ourselves (The Neverland Sessions). It was six months after that that we got asked to sign a record deal (having) had conversations with Reunion for 10 or 11 months. So, it was something they didn't rush into. They flew down and saw us play a few times and we talked. At one point they told us it just wasn't going to work out, and then after we released our album we charted a top five single, I Believe, on our own, without a record company, and they were impressed by that and I think that led to the record deal."
In the liner notes of the album, the band says "Take 'em or leave 'em, we love these songs because they got us to where we are now which is an exciting place to be".
Other songs that were written around this time that were not released on this project were Hands of God, California Rain, Reconciled Man, Open Window, A Man Can Die If He Wants To, and What Goes Up. California Rain eventually was released on the rareties collection So Close...Yet So Far. A lot of the songs on The Neverland Sessions that didn't appear on Whirlpool EP were also re-released on So Close...Yet So Far as the original album was hard to acquire at the time. The album is now available digitally.
Tracklisting
Follow This
Whirlwind
Take It Away
Kill Me (from the inside)
Believe