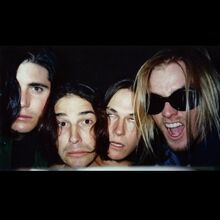 Psychoflange is a song featured as the final track on The Prayer Chain's album Shawl.
The song was originally two songs that became one. Drummer Wayne Everett's mom thought they should have stuck with the first half, but the band opted to experiment.
Guitarist Andy Prickett says "When Eric & I got together to talk about the record, we would share fears with each other. We would talk about songs such as Like I Was or Psychoflange, and wonder if we would injure people's senses because they would never resolve -- they didn't finalize themselves in any way that was pretty or cute or clever, even. They just went through some intensity, and then that was it, and we were like, 'Is this right or is this wrong? What's wrong with these senses? Is there anything wrong?' We just came to the conclusion that that is exactly the way it's supposed to be, so let's just keep it that way."
Live versions of the song appear on the Live EP and the bootleg release The Basement Tapes.