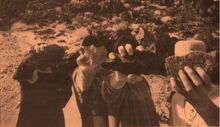 Dig Dug is a song featured on The Prayer Chain's album Shawl. It also appeared on Live EP.
The song is named after a video game.
The lyrics for Dig Dug were written before the music. It references the account of Thomas the apostle hearing about the risen Jesus in the Gospel of John.